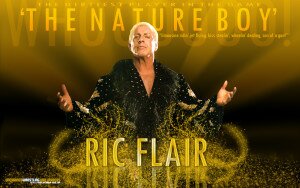 He is one of the most famous Pro Wrestlers of all time. 16 Time World Champion and now he will be on hand at the Super Toy Con in Las Vegas. With the help of Rogue Toys, Ric Flair will be making a very rare Las Vegas appearance. Ric Flair VIP tickets come with a 3 day convention admission. Ric Flair General Autograph Ticket purchasers come with a SATURDAY ONLY convention ticket
Saturday February 28th from 2pm – 4pm 
Circus Circus Hotel and Casino Las Vegas
Tickets for the autograph appearance can be purchased at the event:
Thursday 5pm – 11pm at the Skyrise Tower Convention Floor

Friday 10am – 4pm at the Skyrise Tower Convention Floor

Saturday 10am – 2pm at the Skyrise Tower Convention Floor

 

Ric Flair VIP Experience $75 only 100 available
This ticket will get you a photo op in the custom green screen photo booth with you and Ric together, two autographs and a Limited Edition Ric Flair Poster and a 3 Day Admission Ticket.

The photo booth is a custom environment that professional movie studios use to create backdrops. Ours will have a Full Fledged Wrestling Ring in the background so you and Ric can strike a pose together!
Ric Flair General Autograph  $40 only 200 available
This ticket will get 1 autographed 8×10 personally from Ric Flair and a 1 Day SATURDAY ONLY Convention Admission Ticket
Please note the below are add on's which can only be done at the event and not pre-purchased. You are strongly recommended to purchase these upgrades prior to the autograph appearance time due to the strict time constraints of his appearance.:
Add On's
Belts, Figures, Shirts and Other Personal Merchandise $20 per item, 3 items max

Photo Op's ONLY No Autograph $20

Over sized Items such as chairs, ring pieces etc $50 per item, max 3 items
Please note we strongly suggest due to a sellout that you purchase tickets prior to the event and arrive early. All VIP ticket holders will be permitted first then general autograph tickets will be permitted in afterward.